When I first learned my German immigrant ancestor Michael Harm arrived in New York on June 30, 1857, I thought I'd have trouble digging up some newsworthy event to write about. Au contraire. Or rather, ganz im Gegenteil!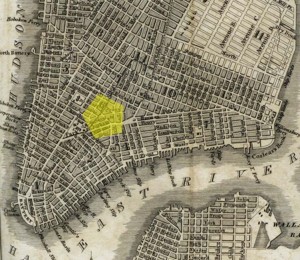 In the 19th century, New York City had a seriously grungy neighborhood, a notorious slum called the "Five Points." Conditions in the Five Points –so named because five streets met at one intersection–were so overcrowded it became an "international attraction, drawing such notables as  Charles Dickens, a Russian grand duke, Davy Crockett, and Abraham Lincoln. … In its heyday, Five Points was very likely the most thoroughly studied neighborhood in the world. Journalists chronicled its rampant crime, squalid tenements, and raucous politics." –Tyler Anbinder, Five Points: The 19th-Century New York City Neighborhood That Invented Tap Dance, Stole Elections, and Became the World's Most Notorious Slum, New York: The Free Press, 2001.
The opening scene of my novel The Last of the Blacksmiths is set in Manhattan during the weekend of the Five Points Gang and Police Riots of 1857, because, as fate would have it, my great-great-grandfather Michael Harm actually did arrive in New York City that July 4th weekend, just in time to witness those frightening, deadly events.
"Oh, you mean like that movie, 'Gangs of New York'?" People ask me at book talks.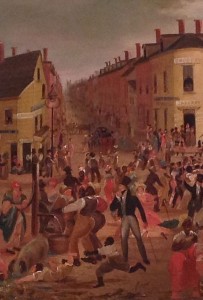 Well, yes and no. The Five Points was the scene of 1857 gang and police riots, and also of 1863 Civil War draft riots. From what I can tell, the 'Gangs of New York' movie is a make-believe, mixed up jumble of those two historic events.
I won't go into all the facts, as we know them, since others have already done so, at web sites like Urbanography, and the History Box. Here's a succinct summation of that time from Gregory Christiano.
The year 1857 in New York City was a memorable one, or rather, a harrowing one.  It was a terrible time for the City and the nation.  A year best forgotten because of its painful consequences.  Not only were the two police forces battling each other, gang warfare broke out in July. Police battled police, police battled gangs, gangs battled gangs, and gangs attacked pedestrians, shopkeepers and residents. It was an incredible scene of mayhem and unrest.