At my launch event for The Last of the Blacksmiths, during the question and answer period my friend Larry raised his hand.
"Was Rauch a real person in history?" he asked.
Yes! Charles Rauch was a real person, a contemporary of Michael Harm in Cleveland in the 19th century who built fine carriages, ice wagons and buggies. Of course, my book being historical fiction, I surmised his personality, likes and dislikes, but the real historic Charles Rauch, son of Jacob, did gravitate toward factory-style manufacture of carriage-making. The Rauch & Lang factory took up several blocks on Pearl Road on Cleveland's west side. At the start of the 20th century, he stayed on the cutting edge of vehicle manufacture with the production of a state-of-the-art electric automobile. Like the fine carriages, the Rauch & Lang electric cars were popular with Cleveland's wealthier, Millionaire's Row set.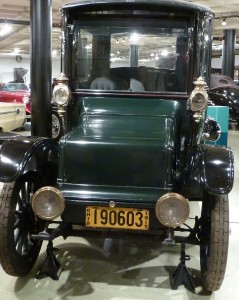 At a recent visit to the Western Reserve Historical Society's Crawford Auto Aviation Collection, I was delighted to find this example, circa 1916, of a Rauch & Lang electric car.