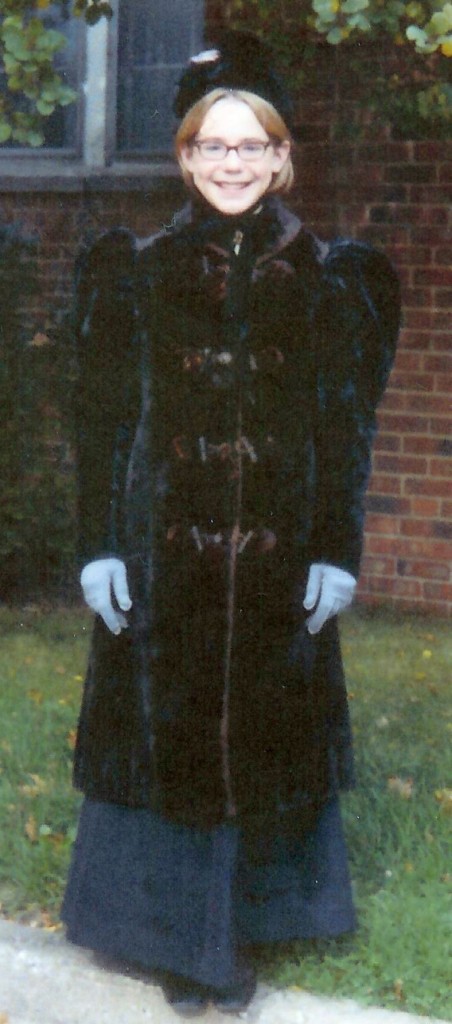 This photograph came to me via my father. About a dozen years ago, as he was sorting through his things in Cleveland, he'd mail off a new phase of my childhood to me in each of his letters.
Recently, this picture of me around eleven years old dressed for Halloween in a Victorian era dress and coat began to nag at my memory, so much so that I sat on a cold tile floor for some time flipping through old photo albums to find it.
Why? Because as I'm out and about on the book talk circuit, people often remark to me how amazed they are by the the hours of research I must have put into my book. Since I don't feel as if I've done more research than anyone else who writes historical fiction, their comments have me wondering. And this picture glimmered into my memory.
The outfit I'm wearing belonged to my grandmother's family. Her mother? Aunt? Great aunt? I'm just not sure. My grandmother was born in 1891, in the horse-and-buggy era. She never learned to drive a car, and now that I think about it, in spite of her modern surroundings — a neat little contemporary home in the suburbs — she never stopped living a late nineteenth century kind of life.
Often when I visited her (her house was on the same property as our family's) she'd recreate those old times for me, sitting me down on the couch to leaf through old photo albums as she told me stories, or pulling out her box of hand-tatted lace, or letting me run my hands through her shoebox of old buttons. She was an excellent seamstress and taught me how to sew, how to save basting thread by wrapping it around a card, how to darn socks. I still have her darning eggs and needles and crochet hooks made of bone in my sewing basket. She had her own, quiet world, and invited me in whenever I had the patience to linger.
It's a known fact that people were smaller back then. So at age eleven, when I needed a Halloween costume, I fit perfectly into these clothes, which my grandmother had saved in her cedar chest. I still remember the feel of that velvet winter coat with the elaborate cord clasps, the black dress underneath made of silk, the slip made of taffeta.
Of course wearing something so special did not change my eleven-year-old behavior. I dashed with my friends from house to house trick-or-treating, leaping over ditches and rustling through wet piles of leaves. The hem of the dress was soon shredded. The frail threads of the coat seams couldn't hold under my childhood exuberance and pulled apart at the shoulders.
I marvel now at the uniqueness of my upbringing. Actually, I don't believe it's the research that's so remarkable, but instead how, on my visits with my grandmother, she and I really were living in the past.