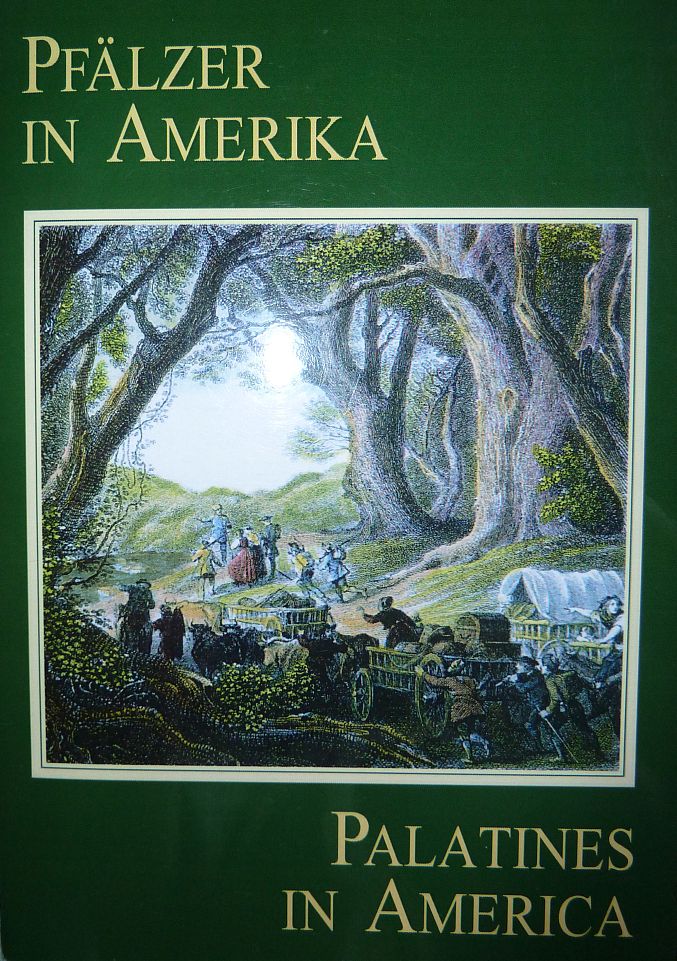 I did not realize this book was so rare. My relative Angela gave a copy to me–Pfälzer in Amerika (Palatines in America) by Roland Paul and Karl Scherer–to help in my thesis research. Searching out a link to it for this blog, I notice it sells for a high price. I can see why.
It's not such a big volume, but it's packed with cross-cultural historical info. Published in 1995 by the Institute of Palatine History and Folklife, it offers articles about 18th and 19th century immigration to America from the Palatine region. Most of the text has English translations. Included are  maps and explorations of the "waves" of immigration and their causes, bios of notable personalities, and letters written by immigrants to America (only in German).
I find the bios especially intriguing. I had not realized that Thomas Nast (b. 1840), "cartoonist, moralist, and 'president-maker'" was a contemporary of Michael Harm (b. 1841).
When in Germany, I visited Villa Ludwigshöhe above Edenkoben, and walked through that town, but missed the part of Edenkoben with the Johann Adam Hartmann fountain. Born in Edenkoben, Johann Adam Hartmann emigrated in 1764 to America, finishing his days in Herkimer, NY. A neighbor of James Fenimore Cooper, many claim the main character of Cooper's most famous series (Last of the Mohicans, The Deerslayer, The Pioneers, etc.) is in part based on Hartmann. Pfälzer in Amerika states:
[After arrival in America in 1764], Hartmann became a woodsman and hunter on the Indian frontier. When the War of Independence began in 1775, he had already had ten years of hunting and fighting experience which he now put to use. In particular, he is said to have been instrumental in winning the Oriskany battle against the British troops and their Indian allies in the Mohawk Valley on 6 August 1777.
A memorial plaque has also been installed in the village. "In Edenkoben and elsewhere, it is firmly believed that next to Daniel Boone, the man from Edenkoben formed the most important model for J. F. Cooper's character, Leatherstocking."