Our first day in Amsterdam, we made a beeline to the Van Gogh Museum, where we came within about 200 yards of the place, at the back of a long line of ticket purchasers.
"Must be because it's a Sunday," I muttered after about five minutes of no forward movement. "Maybe we should try again tomorrow."
The next morning found us no closer. This time, at least we'd purchased tickets for the voucher line.
"This must be the one thing in Amsterdam every tourist does," Dave said.
The woman in front of us turned around and nodded. One hears many different languages in this city, but just about everyone, it seems, speaks English. In the end, we only waited half an hour. The line to the Anne Frank House is the other must-see, and a wait of 2-3 hours no matter when you go. With only two days here, we had to skip it.
Instead, we opted for a 75-minute canal open-boat tour. The driver took us by the Amsterdam City Archives. (If we had another day, I'd definitely be dragging Dave here.) But you don't have to physically stop by to appreciate archives treasures–through their website, the digital collection is extensive and impressive.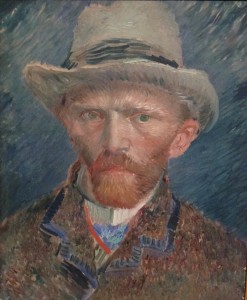 Back to the Van Gogh Museum, and the current exhibit ("When I Give, I Give Myself: Artists and writers respond to letters from Van Gogh"), with displays about the multitude of artists Van Gogh has inspired these last few centuries based on his brief 10-year career as an artist (1880-1890). In one letter, which Vincent wrote to his brother Theo in 1883, I  especially resonated with these words, about the "intense struggle between 'I'm a painter' and 'I'm not a painter.'":
Sometimes a frightening struggle … If something in you says 'you aren't a painter' — IT'S THEN THAT YOU SHOULD PAINT, old chap … one must take it up with assurance, with a conviction that one is doing something reasonable, like the peasant guiding his plough …
Imagine. What if Van Gogh had listened to his inner critic?