It wouldn't be a travel blog without a post about food and drink. On Dave and my recent tour through Scotland, the Netherlands, and Germany, we've tasted such a delicious variety. The most unusual dish I had in Scotland: wood pigeon with black pudding, served on what appeared to me to be a (carefully scrubbed) slate roof tile.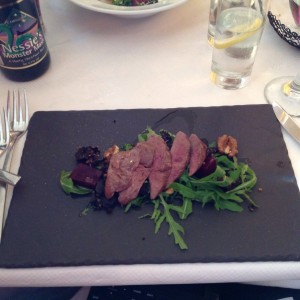 I ordered it at a restaurant in Inverness called the Mustard Seed. The wood pigeon is the largest bird of the dove family, also known in England as the Culver.
The previous day, I had asked a waiter about Scottish black pudding, and he'd paused.
"When I describe it, you'll think it's gross," he said.
"Try me."
"Well, you take the insides of an animal, the stomach I think, they clean it and fill it with blood and–"
"Okay, stop. You're right, I don't want that," I'd said.
But a day later, by the time we were dining at the Mustard Seed, I'd seen black pudding on enough restaurant menus I thought–oh, what the hell. The waiter assured me I would not get a large quantity, just a few small slices served with the wood pigeon on arugula. The taste reminded me of blood sausage (which it basically is). Rich, but very good. A similar concoction is added to Scottish haggis, which makes some turn up their noses to that breakfast selection.
Anyhow, back in Edinburgh, at a bar/restaurant called Whiski on High Street (really), I tried a whisky "flight," a scotch whisky sampling adventure that didn't require as much courage as the black pudding, but perhaps more fortitude. The waiter served me four bar staff favorites: Balblair 2003, Dalmore 15 Year Old, Jura Prophecy, and Ardbeg 10 Year Old, to be sampled in that order. I find I'm a fan of the less smoky, first two scotches. Just sayin'.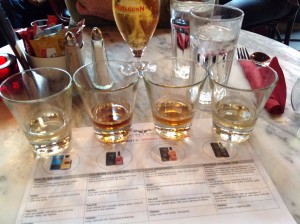 Skipping ahead to Freinsheim, it's time to enjoy kuchen–a traditional Palatinate dessert. At Tante Inge's yesterday, Dave and I enjoyed slices of this delicious Apfelkuchen (Apple Kuchen).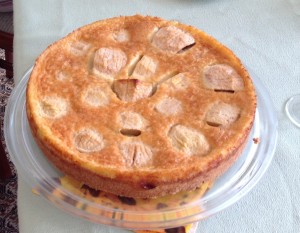 In the evening, at an outdoor barbecue (the weather has been so warm and pleasant in the Palatinate) our hosts served up white asparagus, with hollandaise and cheese sauces.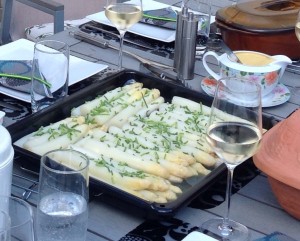 Naturally, the dish was devoured.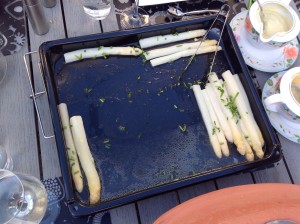 The meal concluded with a digestif — Pear Schnaps, a German form of fruit-based alcohol also called Obstler. This schnaps is not to be confused with the candy-cane tasting Peppermint Schnapps liqueur. Two different drinks entirely. Distilled just a few doors down from our courtyard barbecue on Wallstrasse, the Pear Schnaps was a satisfying finish. And we slept well, too.