It's happened before. I've spent months and months googling and researching, then suddenly a new port of call materializes from the Internet fog.
The first time, I was browsing the Encyclopedia of Cleveland History. I'd visited numerous times already, especially in search of historical information about carriage manufactories, scrolling down the list of subject headings under "c", where nothing turned up. Then one day, while looking up Jeptha Wade, telegraph pioneer, I discovered it: "Wagon and Carriage Industry." Under W. Duh.
This week it happened again. Clicking around in search of maps of the Ohio and Erie Canal (which began close to the mouth of the Cuyahoga River in downtown Cleveland), I happened upon the Teaching Cleveland website, "a repository of writing, pictures and videos to support the teaching of Cleveland history and policy education." A go-to for teachers and students of Cleveland history. I'd somehow not come across it before. In three years of researching Cleveland history.
At this site, Letterman-esque links abound: "10 Greatest Clevelanders," "12 Most Significant Events," a very thorough compendium of links to articles and sites. My favorite so far is a link (under "The Best of Teaching Cleveland") — to Cleveland Memory Project — about the pioneer history of the settlement, Survival – A Man and Boy. This early account of Lorenzo Carter and Seth Doan is riveting (and makes me grieve, once again, for the inexcusable way settlers treated the Seneca, Ottawa and Chippewa natives).
The account reminds me of this painting of Cleveland I happened upon recently at a blog called "Cleveland Area History," supposedly a "first" rendering of Cleveland's earliest days: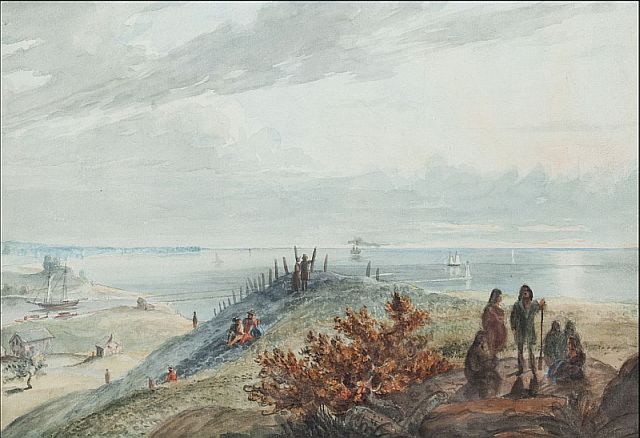 A wilderness scene worthy of James Fenimore Cooper.