Spread the word! I'm delighted to announce that for the entire month of February the ebook of my historical novel The Last of the Blacksmiths is just $.99. Purchase through Barnes & Noble, Smashwords, or Amazon.
Coffeetown Press is also featuring an interview with me on their website here.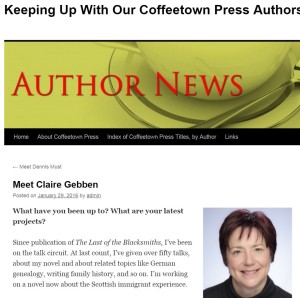 It's also a pleasure to note that I continue to receive invitations to speak about writing, German genealogy, and more. For a list of my talk topics, click here. These presentations are a time for me to share the wealth of tips and info I picked up while writing my novel, and I love hearing your stories as well.
All the best in your writing and family history adventures.