Before heading off on this journey, I was nervous I wouldn't find what I'm looking for. First person accounts by Scottish immigrants to the Ohio River area in the early 1800's make mention of events — shipwrecks, infant births and deaths, ancestors signing the Covenant in their own blood — which I'm finding it difficult to verify.
The family history account of Duncan and Nancy Fraser begins thus:
Not wishing to rear his family in Scotland (after three of his uncles had been burned at the stake for their faith in Christ), Duncan Fraser (who was tailor to Lord Cavanough [sic]) started to America with his wife Nancy (both were Highland Scots from near Edinborough [sic]) and their four children — three girls and a boy, Daniel, in the year 1804.
It's a mystery … since this account is about the turn of the 18th to the 19th century, the reference to three uncles burned at the stake for their faith in Christ seems out of place. The Covenant martyrdoms happened in the previous century, in the 1600s, didn't they? So was this account referring to great uncles? or to 2x- or 3x-great uncles?
One place I hoped to glean more insights was at the National Library of Scotland in Edinburgh. I only had two days to spend, so prepared as much as I could in advance. Users of the library have to apply for a library card. I saved time by registering online here. I still needed to show an identification with my current address, but the process of getting a card definitely went more quickly.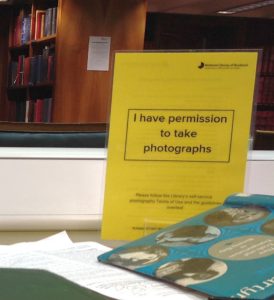 Once in the library reading room, I began at the enquiries desk. If you want to take photos (which I did), I had to fill out paperwork and display a yellow card. First thing, I used the main catalogue to order documents not available on the open shelves (most of them), as it can take up to an hour for the material to be brought out.
And here's where I messed up. The order slip in Special Collections had a blank for specifying my table number. Hence, I assumed materials would be delivered to my table, a common practice at other libraries. I sat waiting for a full hour before going up to make an inquiry (enquiry), only to learn I had was supposed to pick it up at the desk. My material had been there all along.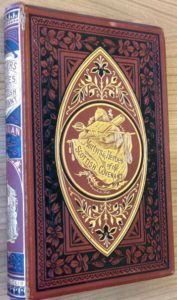 So, about those martyrs. Not sure I've found the event, but the book Martyrs and Heroes of the Scottish Covenant by George Gilfillan did a beautiful job of clueing me into the power struggles of the Scottish reformation. About Duncan Fraser's "uncles," however, I haven't scored any specifics. It's a tangent, anyway, not the main focus of this immigration tale. I was mainly interested in the historical context, and found great resources and voices.
Not in the National Library, but on the internet, I found a website indicating that 95 people in Edinburgh were executed for their faith in Christ in the 1600's. What's more, it's estimated that "perhaps 30,000 may have died for their beliefs and Presbytery during the whole of the Scottish Reformation."