In the current July/August "Echoes," published by the Ohio Historical Society, I was delighted to find a piece about the Union Army POW camp Johnson's Island (located in Sandusky Bay just to the south of Lake Erie).
I don't remember how I happened on the existence of the Johnson's Island camp in my research for The Last of the Blacksmiths, but I remember thinking how spotty the information seemed. Now, the "Echoes" magazine notes, there's a new exhibit called "Privy to History" about the Johnson's Island Civil War Prison at the Hayes Presidential Center in Fremont, Ohio, an exhibit that will run through January of 2015. The exhibit is funded by the Sidney Frohman Foundation and the Friends & Descendants of Johnson's Island Civil War Prison. For details, go here.
A terrific on-line resource is the Johnson's Island Preservation Society. Hover over the drop-down tab for History & POWs, for the submenu "Pleasure Resort Era." Excuse me, Pleasure Resort Era? Yup.
The first Johnson's Island Pleasure Resort Company leased about twenty acres of land in 1894. The resort was in business from July of 1894 to September of 1897, when operations were discontinued. In 1904, a new group purchased the stock and lease rights of the resort and retained its name. The resort was then operated for four years until it, too, was sold to a different owner, the Cedar Point Pleasure Resort Company.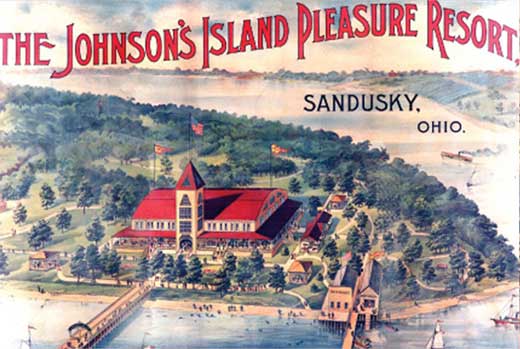 Cedar Point Pleasure Resort Company?!?! When I saw this, I was astounded and horrified. I'd gone to Cedar Point Amusement Park many times as a kid. Had they really built it on top of a POW Camp?! The answer, thank goodness, is a resounding NO. Cedar Point is across the bay. The "Pleasure Resort Era" on Johnson's Island was short-lived, closing down once and for all in 1908. The full write-up is found here.
Another on-line resource for Johnson's Island is found at Ohio History Central.