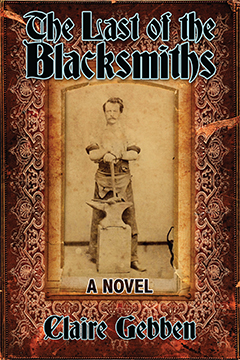 My book is out in stores and online. Reviews are starting to come in on GoodReads, at Morganti Writes and on Amazon.
My friend Jo said the nicest things on Facebook: "If you aren't reading The Last of the Blacksmiths by new author, Claire Gebben, please put it on your must-read list. First of all, she takes care of the reader, offering that seated-by-the-fire-in-a-favorite-tattered-sweater kind of comfort. Second, the story is so beautifully crafted and descriptive, it reminds me of the days when families eagerly gathered in the living room around the radio on Sunday night, waiting for the next installment of a beloved program. Simply put, this is storytelling at its best. Bravo, Claire!"
Thanks, Jo! And Charlotte, and Kim! Last week, I wrote an article called Blacksmith Basics for the Sharing Stories segment of Northwest Prime Time. Writing the article, I recalled those demanding days of blacksmithing, the hammering and red-hot glowing metal, the grit and sore muscles. It occurred to me how the path to publication, the patience and endurance and faith required, is not such a far cry from the sweat and grit and discipline required to craft a useful, beautiful object out of metal.
When I think about it, that's no doubt the case for all creative endeavors–if it's not a challenge, it probably isn't worth doing. And oh how grand it is to finally hold the book in my hands.