Early last Saturday, when in Frankfurt, Germany, my very kind host Mia asked me what I wanted to see. The Saturday market? The older, historic part of town? It had been a long week, and quite frankly, my brain wasn't firing on all cylinders. It was my last day there. I'd just spent three days and very long hours browsing the huge, international Frankfurt Book Fair. Foremost in my mind now was locating the airport in time for my departure flight the next morning. So I shrugged.
"Anything's fine, whatever you think."
Mia hesitated, then suggested we visit the Römer Platz. She said first we'd pass by an old church I might like to see. "Although it might not be open today — there might be a private Book Fair event or something. But Paulskirche is historic. The outside is still like it used to be, but inside it was renovated in the 70s."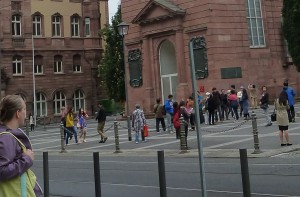 As we approached the cathedral, its entrance was blocked by a busload of tourists. Still, something about the place felt oddly familiar. I stopped in my tracks.
"Wait, did you say Paulskirche? The Paulskirche where Germans held their first ever freely elected parliament?"
Before Mia could answer, I'd dashed across the street, backing up against a building until I could go no farther, tipping the camera sideways to capture the very tall steeple. Mia followed, grinning.
"You'll be able to get a better picture of the whole church over there, across the park," she said.
"Oh, but I want this angle! I think I have the same image on file at home, showing this very vantage point at the time of the 1848 Parliament."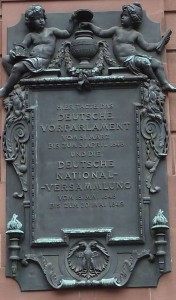 Oh my goodness, I was delighted to come to this place. I took photos of the outside of the church (it was closed, as Mia had predicted) and also of the historic plaque by the door that gave dates and an explanation of that historic year.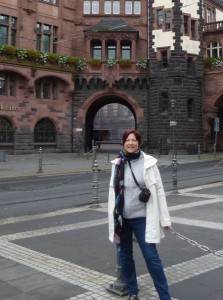 "Give me your camera," Mia said, holding out her hand. I shook my head, but she wouldn't take no for an answer. "C'mon, be a tourist." How could I say  no?
My whole trip was like this, serendipity, surprise, astonishment and joy.