I've been thinking a lot today about my other German great-great grandfather Henry F. Hoppensack, born April 29, 1821. He wrote in his autobiography about his formative years growing up in Nordrhein-Westfalen. Clearly, he never forgot how hard he had to work on behalf of his father on the Estate Kilver.

In an abrupt manner, not unlike Henry Hoppensack, I decided to go to Rödinghausen today. I had a few extra days and a five day Eurail pass, so why not? Why not go to the area of the Estate Kilver, try to track down a thing or two about Henry Hoppensack and his wife Ilsabein Hissenkamper?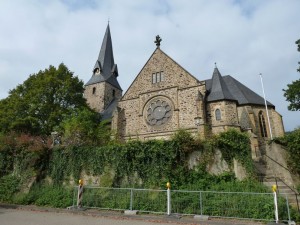 Five hours and four train changes later, I disembarked in Rödinghausen, a quiet village tucked at the foot of the low-lying Wiehen Mountains. I checked into the Gasthof Nonnenstein and asked where I could find some clues about the history of the area.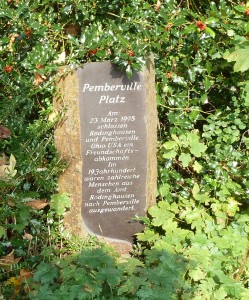 The Inn owner directed me to this marker. Apparently, a good-sized passel of residents of Rödinghausen immigrated to Pemberville, Ohio in the 19th century. But not our Henry — he immigrated to Cleveland, where he ran a brickyard, and then a truck farm, and he and Ilsabein had about nine children.
Later, I couldn't resist hiking up to the Nonnenstein. The forest was alluring, the beeches and pines full of bird song and green. The mountain rock shelves of the Wiehen date back about 165 million years, and not far from here in Duesseldorf lie bones of the Neanderthals. By comparison, Henry and Ilsabein's histories seem like the blink of an eye.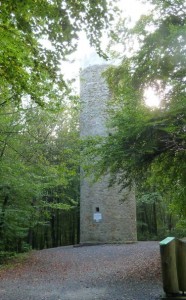 When I arrived at the Nonnenstein, I admit to feeling a bit betrayed. This tower was built in 1897, and reminded me so much of the one at Volunteer Park, including its utter lack of purpose, the thought it had been my destination was a let down. The trees have grown up so there's not even a view to speak of.
But who could feel betrayed after spending several hours in the calm, unbelievably quiet forest here?