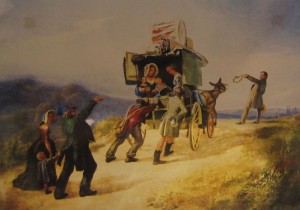 Browsing through photos of my visit to Germany a few years ago, I came across this image of a traveling music band, a photo I took of a display at the Culture House Museum in Bad Dürkheim.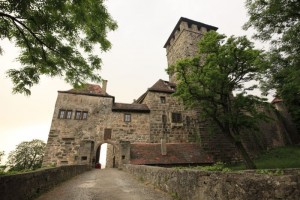 The scene reminded me of a wonderful museum I visited during my travels: the Pfälzer Musikantenland-Museum in Kusel at the Burg Lichtenberg. It's a stunning setting, a former castle that's now something of a village, with shops, a dining hall and a family and youth hostel guest house.
At the Musikantenland Museum, I picked up a flyer that provided "A Little Bit of History."
The western Palatinate (primarily the area comprised by the former Bavarian Rhine Landkommissariate of Kusel, Hornburg, Kaiserslautern and Kirchheim), known as "Musician Country" is one of the few regions of the German-speaking cultural world with a tradition of itinerant musicians or Wandermusikanten.

After the Palatinate attained freedom from French occupation in the era of Napoleon (1797-1814), one encounters the vocational description of musician more and more often in western Palatinate archives. The freedom from guild obligations allowed a considerable number of local popular musicians to make a living from their natural talents. Economic causes (overpopulation, famine, bad harvests in the poor soil of the western Palatinate, similar to the reasons which drove many people from the Palatinate to emigrate to America in the 19th century) were also responsible for the first travels of musicians around 1830. They traveled first to neighboring countries (France, Switzerland) or to other German states (Prussia), then to the rest of Europe (Spain, Holland, the British Isles, Scandinavia, Russia etc.) and finally — after the middle of the century — literally to the entire civilized world.

After thorough practice during the winter, these western Palatinate musicians set out in the spring and remained away until fall, if they were seeking to make their living in Europe, or came home after two, three, or more years if they traveled overseas.

In the prime years around the turn of the century, approximagely 2,500 musicians were traveling about, earning the considerable sum of many millions of gold-marks annually.
The Musikantenland Museum at Burg Lichtenberg houses not only instruments, uniforms, and so on, but also souvenirs the men carried back from their travels. More information about the itinerant bands (and their demise) can be found at a brief history of Itinerant Musicians.