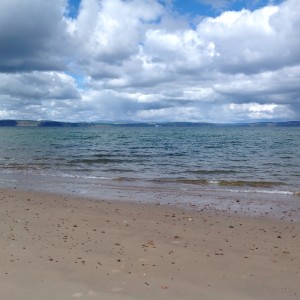 Dave and I started off our morning at the harbour at Nairn. After we'd soaked up a little sunshine (and rain and hail), we dined on fish and chips at the Dolphin, then stopped in at the Nickel and Dime, me still clutching a cup of coffee.
"I don't blame ya," the shopkeeper said when I apologized. "Ya need somethin' to keep ya warm."
Time to head back to Edinburgh. On the way through Cairngorms National Park, we paused to stretch our legs at the Highland Folk Museum at Newtonmore.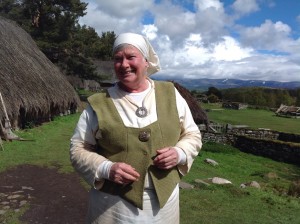 "Are ya here because of Outlander?" the exhibit interpreter asked as we entered the 17th century Highland village. She seemed so pleased about this connection I felt embarrassed to tell her not entirely.
Check out the gorgeous vest she's wearing — the fleece of it was spun, dyed, woven and sewn on site.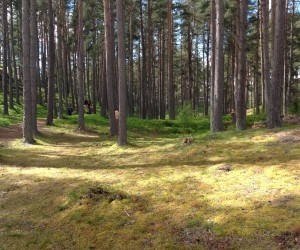 This living history museum was a serendipitous joy, real fires burning in the crofts, careful attention to every aspect of the buildings, artifacts, and the grounds, a replica of a village uncovered at an archeological site a few miles away. And also providing Dave and me with the added status of being able to say that, while in Scotland, we visited a genuine film location from the first season of Outlander. Not to mention the gorgeous forest path one takes to access the village. What a treat.