First question, why is the International Germanic Genealogy Partners Conference (IGGP) being held in Minnesota? Sure, the state is centrally located and all, but somehow, I pictured a higher percentage of Germanic Americans in Wisconsin, say, or Iowa. Apparently, Minnesota is way up there, too. A May 2017 article at Midwest Weekend reports that Minnesota has around 38 percent, just under the 44 percent and 40 percent of Wisconsin and Iowa, respectively.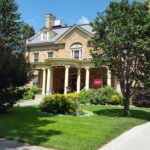 On the first full day of my visit here, I prowled around looking for German genealogy resources. Mostly, they turned out to be in Saint Paul, the sister of the Twin Cities and capital of Minnesota. First stop, the Germanic-American Institute (GAI). Located in the historic Summit Avenue neighborhood, the restored mansion (nine fireplaces!) is a terrific venue for programs such as a German language immersion school for kids, adult education programs and language clubs, and a German book library.
"What else is worth seeing in the area?" I asked when I stopped in the office, adding that I was hot on the trail of German American heritage sites in particular.
The office assistant looked at me quizzically, with a light furrow in her brow. "For the most part, they're not singled out. I mean, the German American culture is pretty intertwined with the whole history of the town. But there is that restoration of murals in the Capitol Building. They were in the basement, it used to be a Rathskeller. You know about that?"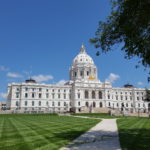 No I did not. A Rathskeller is a German term for a basement beer hall or restaurant. A beer hall at the State Capitol of Minnesota?  Enticing indeed. I resolved to make the Minnesota State Capitol Building my next stop, a drop dead gorgeous sandstone and marble structure. The building was so huge, and my mission so singular that upon entering, I went directly to the Information desk.
"I hear you've just opened a Rathskeller with murals in this building?" I said.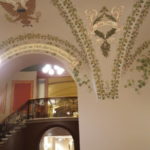 The info desk guy hesitated. "Well now, the Rathskeller's always been there," he said. "We've only recently restored it." After pointing me in the right direction, he handed me a sheet with all the German mottoes now restored on the walls of the Rathskeller, just the way God, and the good German immigrants of Minnesota, intended. Mottoes like: "First do your duty, then drink and laugh." And, "First test, then praise." And, "As time flies we are nearing eternity."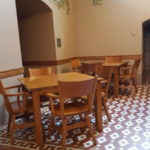 Sadly, the Rathskeller was empty of food and drink and hence, people; I dearly hope a convivial spirit will inspire Minnesota legislators in the future to talk through difficulties over a pint in that pleasant, tiled, daylit room from time to time. Meanwhile, I understand there is a restoration project going on for the oldest surviving lagerbier saloon in the Twin Cities, the Waldmann Brewery & Wurstery, for which there is a Kickstarter campaign here.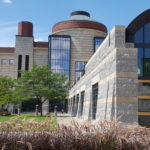 I also made it to the Minnesota History Center Library, also in St. Paul, taking a brief hour to browse the wealth of genealogy and history resources in their holdings. However, I did not have a chance to get to the main event in town, for German genealogists, that is: the Germanic Genealogy Society's library at Concordia University, which houses 2200 books and periodicals relating to German genealogy.
At the end of the day I was sharing with friends Katie and Sam about how beautiful Saint Paul, and its namesake church, both are. "Yeah, well, they used to call it something different–Pig's Eye Landing," Katie told me. "After a guy who had a tavern down on the river." Surprisingly, that former name is not on the Germans. The name came from the French Canadian tavern owner, Pierre "Pig's Eye" Parrant. Who knew?