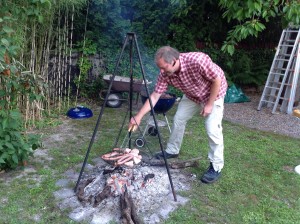 "I'm glad to see you back so soon," Matthias said to me on our first evening in Freinsheim.
These were welcome words, as I worried Dave and I might be outwearing our welcome, having just visited here last October for the Weinwanderung. We were welcomed with a veritable barbecue feast — lamb, chicken and sausage, grilled over a fire stoked from the stalks of old grapevines.
"Does the grapevine smoke add flavor?" Dave asked.
Matthias smiled. "Okay, if you like, it makes the food more delicious. Then again, perhaps we use this wood because it burns more slowly and evenly."
Everything tasted delicious.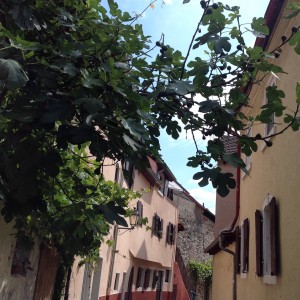 Spring in Freinsheim is the time of ripening cherries and figs, and, this late in the season, the last days of the delicious white asparagus harvest, which attracts Germans from the cities, who are willing to wait in long lines in their cars to purchase asparagrus fresh from the field.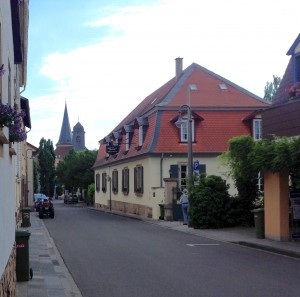 We are here just in time for the annual Altstadtfest (I've tried to link to an English translation of the web site. Altstadtfest takes place June 4-7), and it looks like the weather will be perfect. The Altstadtfest will be held in the town center, just in the shadow of the church spires you see in this photo. In the foreground is the Catholic Church spire, and in the background is the Reformed Evangelical Church spire. Each has a bell, and I am told, unlike many other small villages in the Pfalz, these bells are tuned to ring in harmony.