The shift from the 19th to the 20th century was dramatic for its increased reliance on machines, which rang the death knell for the ancient art of blacksmithing.
"At the beginning of the 19th century, with the industrial revolution, the blacksmith craft had passed its peak. The increasing precision in dimensions of the milled iron stock fundamentally changed the appearance of finished works. Chamfering and texturing was supposed to recreate the old familiar look.
"The development of cast iron has to be considered as an additional factor contributing to the descent of blacksmithing, and the invention of new welding techniques (gas and arc welding) was the final major step towards the decline of the art of traditional blacksmithing." (From The ABCs of Blacksmithing by Fridolin Wolf, Blue Moon Press, 2006.)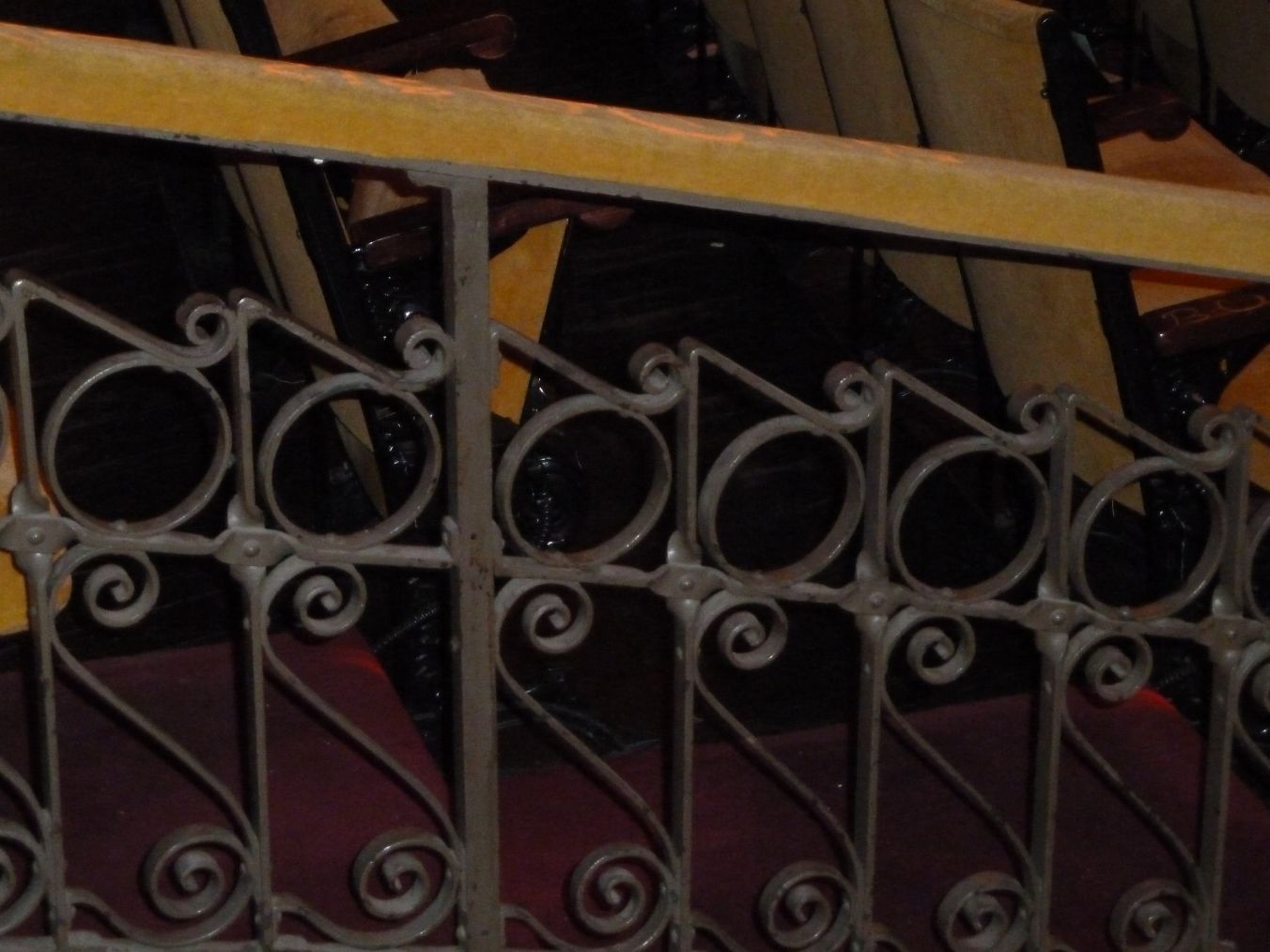 I keep an eye out for signs of the "old methods." Here is a photo I took during a visit to Roosevelt University's Auditorium Theater in Chicago. The building, constructed in 1887, is replete with hand-crafted balustrades.
The art of blacksmithing might have evaporated entirely, except for a few people like Francis Whitaker. Here is a Youtube of Francis Whitaker instructing others on how to make a wrought iron gate. There are important levels of initiation into the art — apprentice, journeyman, master. The way Francis Whitaker kept the craft alive was by visiting the old masters in the U.S. and Europe, and subsequently, passing his knowledge down to those eager to learn.
In 1966, just as the popularity of TV dinners were threatening yet another corrosion of people doing for themselves, the Foxfire magazine was born, a publication that began to revive ancient knowledge via interviews with residents in the Appalachian Mountains of Northeast Georgia. Numerous books and how-to publications have sprung from this initial effort.
But it appears a revival of this ancient art is underway. My niece who is currently attending CSU in Fort Collins tells me in her backyard, her roommate has cobbled together a blacksmithing forge. I hear the membership of the Northwest Blacksmith Association continues to rise. Such reports give me hope that all is not lost.