Today I traveled hither and yon on the byways of Strathnairn. Topographically, I decided "strath" must mean river valley or something, because the terrain stretched along the River Nairn. Sure enough, it does:
A strath is a large valley, typically a river valley that is wide and shallow (as opposed to a glen, which is typically narrower and deep). An anglicisation of the Gaelic word srath, it is one of many that have been absorbed into the English language. (quoted from Wikipedia)
I'd asked Fiona, librarian at the Highland Archive Centre, about what she might recommend for sightseeing (other than the Culloden Battlefield and Loch Ness) in this region.
"The Clava Cairns. Have you been to them?"
Well, no, I hadn't. They're not quite my era of research at the moment (18th/19th centuries), they date back to 4,000 years ago, to the Bronze Age. When I arrived, attendance was sparse, the day cool and cloudy. I loved the spot, and did think of "Outlander," but it wasn't until I was back at my desk that I discovered the site is actually a set-jetting pilgrimage site for "Outlander" fans. As a tribute, I include this photo of two figures glimmering in the distance, just the other side of space and time …
Mind you, the stones are merely similar to the fictional Craigh na Dun stones of the "Outlander" series. But still. These are burial mounds, and for my part, my imagination was gripped by the ancestral connection between these Pictish burial mounds, and the Presbyterian church and burial site nearby in Daviot, where many of the Scottish emigrants to the Ohio River once hailed from. The names on the gravestones were eerily familiar.
After roaming the lanes of Strathnairn, where one encounters Harry Potter-style bridges and rooster and sheep road-crossings,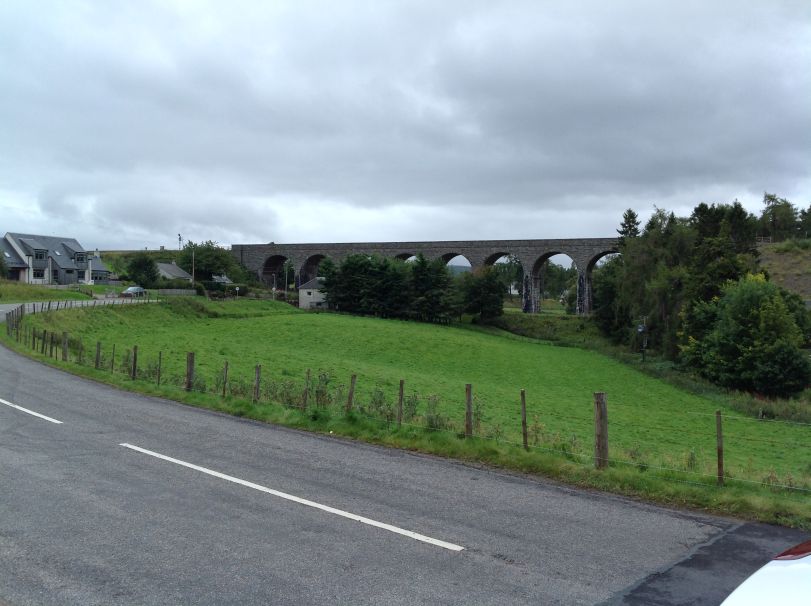 I hopped across A9 to the Dairy Cafe (okay, "hopping" is too offhand for the hair-raising, heart-pounding trial of having to make a left turn on a speeding carriageway, then an immediate right with lorries barreling toward you) for a steaming, delicious bowl of Cullen Skink, a creamy chowder of haddock, leeks and potatoes that soothed my soul and eased my heart back to its normal rate.