The story goes that my 4x-great grandfather was born on the Culloden moor in April of 1746, just before the Battle of Culloden. That information appeared in a typed history found in the family Bible. A visit to the Culloden Visitor Centre, however, revealed no such dwellings, just an empty, windswept moor (except for the Leanach House, a kind of memorial with a grisly history I won't go into for the moment). The Culloden House, a large mansion of the Forbes family, was located on the moor, but burned down long ago.
At the Culloden Visitor Centre, I did find an old painting of the battle that showed the Culloden House with some small dwellings beside it. So as I've been researching in Invernessshire on the old ancestral turf, I've been keeping an eye out for records of the Forbes estate. I was thinking maybe the people in the dwellings on the moor worked for the Forbes estate? But so far, nothing like that has turned up.
Then yesterday, I was idly flipping through material on the bookshelves and happened upon a little one shilling booklet printed called Culloden Moor and Clava Circles. In it I came across a fold out map of the battlefield as drawn in 1746 by the military in command that day. And lo and behold, some wee cottage dwellings were drawn in, a number 3. by them designating them as dwellings of the Balvraid [Balvaird] Farm. And another two dwellings with the number 2. beside them designating them as the Culchunaig Farm.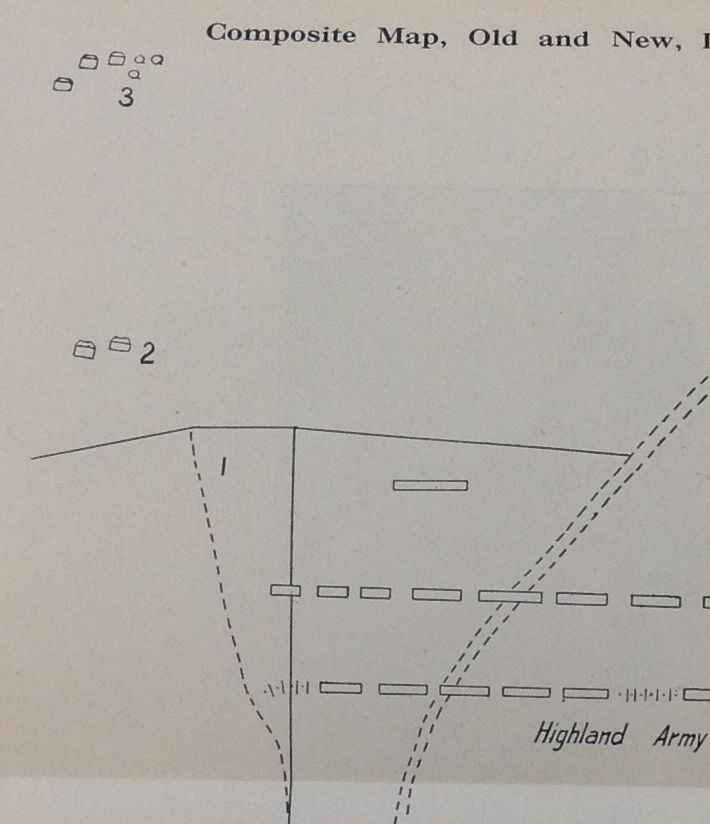 (I'm only showing a partial image to give you an idea, as I'm not permitted to show the full image per photography restrictions here at the Archive.)
I'm trying not to get too excited, but it's fun to speculate. Here in the Highland Archive Centre I've come across letters of the McIntoshes of Balnespicke and Balvaird. Could it be the lost is found? There are *so many* McIntosh families in this area, it's nice to be able to narrow it down in scope. Then again, maybe not.
Regardless, it feels to me as if the existence of this Balvraid/Balvaird Farm on the Culloden Moor supports the story tucked away in our family Bible all these years.