As far back as I can remember, when growing up in a small mid-century home on the Southeast side of Cleveland, Ohio, there was this map at the end of our bedroom hallway.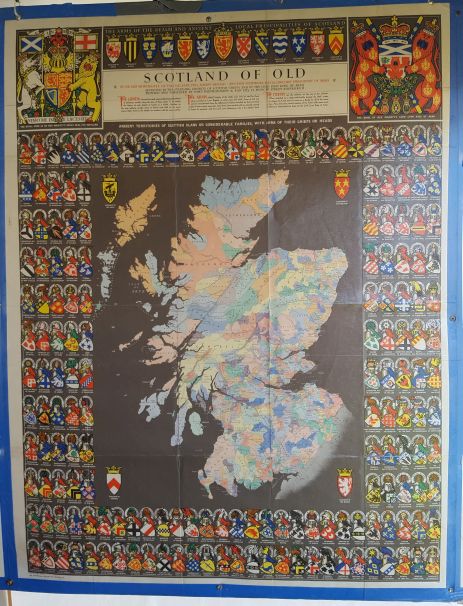 It was actually pretty huge, about 2-1/2 feet wide by 3 feet tall, taking up most of the end of a hall lined with doors leading into the family bedrooms. So I saw it often, every single day of my formative years. I tell you what, without a clue what it was, that image captured my imagination. Does it, or does it not, resemble a witch with her skirts swirling around her?
When I grew older, my father impressed on me that it was there because it held family significance, it being the clan map of Scotland. "We're Mackintoshes," he used to say. "Touch not the cat bot a glove." Apparently, Dad was quoting the motto on the Mackintosh crest, but again, for my young American English brain, life was full of mysteries. (It means, before you pick up a wild or feral cat, be sure to protect yourself with safety gloves.) The war cry of the clan was "Loch Moigh," referring to their homeland in the Inverness region.
Today, after not a little effort and many hours of travel, I find myself ensconced very nearby Loch Moigh, just north of Loch Ness (Loch means Lake) at Moniack Mhor Writing Centre. While I'm feeling a bit jet-lagged, I'm oh so excited to have returned. As in, returned to Inverness-shire since a short visit here with Dave in 2015, and as in, returned to Inverness-Shire after my ancestors left this homeland for good circa 1803.
On the map, the Mackintosh clan laid claim to the upper shoulders of the witch, just beneath her head. Where all the muscular tension resides, come to think of it. The territory of the former site of the fateful 1746 Battle of Culloden.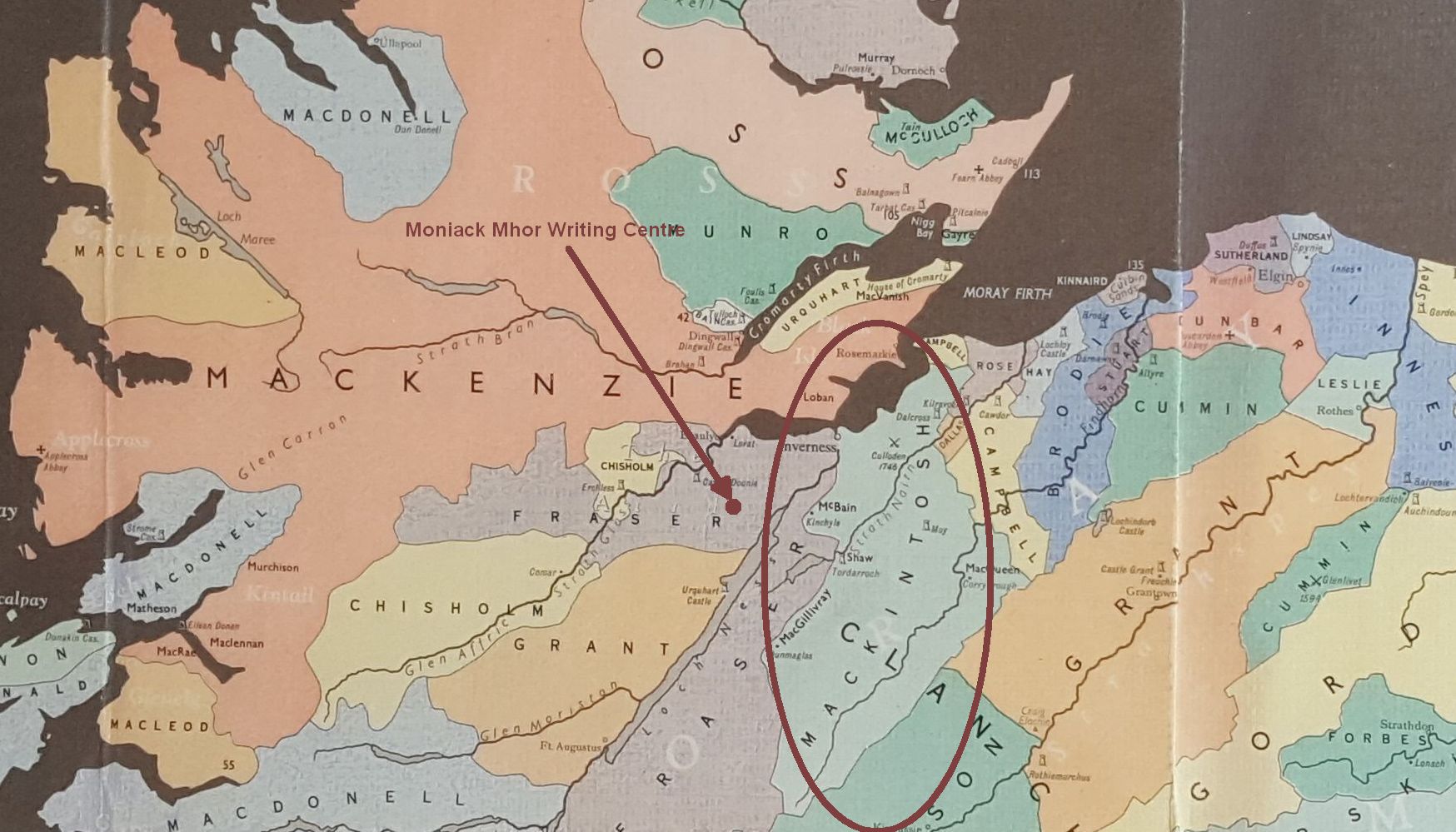 I'm close, but I've actually missed the mark slightly. Judging by my rough calculation on the map above, Moniack Mhor is located in Fraser clan territory. Oh aye, now I've put my foot in it. But from what I understand, by the late 18th century, the clans weren't warring so much with each other as they were struggling to survive under the "galling yoke" of England.
Or so first person accounts say, of those who emigrated in a last-ditch effort to escape the "galling yoke." I'm looking forward to finding what I can about the Daniel Mackintoshes (McIntoshes) before they emigrated. They didn't depart alone. Their exodus included the Roses, the McBains, the MacGillvrays, and others. A whole fistful of disaffected Highland Presbyterian Gaels, right at the scruff of things, it would appear.
So, after five days at this Tutored Fiction Retreat with Paul Murray, Amanda Smyth, and Jane Harris, my aim is to dig deeper and find out more.