It's almost here — New York Tartan Week — held annually in New York City. This year the parade is on April 8, brought to you by the St. Andrew's Society of the State of New York, the New York Caledonian Club, The American-Scottish Foundation and Clan Campbell.
A complete week of events is in store from March 31-April 9, with theater and clan gatherings and more.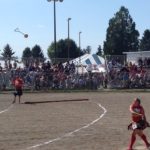 This July in the Pacific Northwest, I'm looking forward to another Scottish Highland Games and Clan Gathering in Enumclaw. Dates to be announced soon.
Meanwhile, I'm having a marvelous time indulging myself, every so often, in episodes of the BBC series "Monarch of the Glen." What a terrific cast of actors in an absolutely gorgeous setting. I'm hooked.