Recently, I stumbled across the book The World in 1800, which drove home to me again how, by 1800, the world had changed radically — from local and regional, to global and international. Two centuries later, we're reaping the benefits of international communication and trade worldwide like never before, but are also feeling the loss in our own backyards. Loss like of local economies and farms. Loss like the reality that I visit with friends all over the world via email more often than I visit my dear neighbor Chuck next door.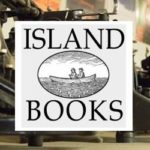 One center of community in our lives — the local bookstore — has often lost ground in this click-and-ship-on-demand era of shopping. My bookstore, Island Books, brings the local area together in so many ways, supporting book clubs and schools and readings, offering personal service and a world of excellent books to choose from.
So when James invited me to participate in Island Book's Local Author Festival this weekend, Sunday, 2/26, 2:00-4:00 p.m., of course I said yes. It's gonna be fun! Added bonus: All comers have the chance to enter to win a $50 gift certificate good on your next visit to the store. I look forward to meeting many book-loving customers, and … drum roll … to meeting these amazing local authors who'll be there with me at the festival.
Marianne Lile, author of Stepmother: A Memoir
Jody Gentian Bower, author of Jane Eyre's Sisters: How Women Live and Write the Heroine's Story
Rebecca Novelli, historical novelist, The Train to Orvieto
Ron Donovan, leadership expert and author of Wisdom of Doing Things Wrong
Rebecca Clio Gould, psychology and health author, The Multi-Orgasmic Diet
Martha Crites, mystery writer, Grave Disturbance
Phillip Rauls, music artist and photographer, The Rock Trenches
Leonide Martin, historical novelist, series "Mists of Palenque" about great Mayan Queens
Stephen Murphy, author of On the Edge: An Odyssey, a memoir
and moi, Claire Gebben, historical novelist, The Last of the Blacksmiths.
So come on down this Sunday to Island Books, it'll do us all a world of good.