I didn't have the good fortune to travel to Scotland this summer, but a couple of experiences brought Scotland to me.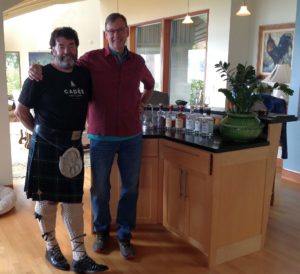 One was a spirit tasting on Whidbey Island, courtesy of Glaswegian Colin Campbell, owner of Cadée Distillery.
The vodka, gin, rye whiskey and bourbon tasted great, but with its signature flavors — Intrigue Gin infused with botanicals, Deceptivus Bourbon finished in 20-year-old port barrels, and a newly released spicy smooth Cascadia Rye — Cadée Distillery has upped its game. Truly superb.
Colin Campbell loves drawing parallels between his "Isle of Whidbey" and Scotland ("We have gray days and so does Scotland. We have whiskey and Scotland has whisky") and stubbornly insists the accent, despite his thick Glaswegian brogue, is ours. A tasting at Cadée Distillery, 8912 Highway 525, Clinton, Washington, just off the Whidbey Mukilteo ferry, is highly recommended. Cadée spirits can also be found locally at Bev Mo and Whole Foods and Safeway, to name a few.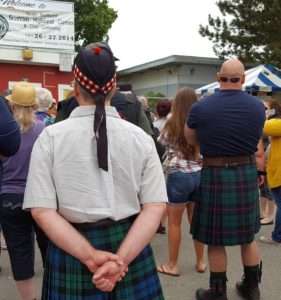 The other Scottish-flavored treat was a day in Enumclaw, spent at the Pacific Northwest Scottish Highland Games and Clan Gathering. I'll write another post soon about the games and the sights. Plenty to enjoy, including this introduction to the day as we waited in line to purchase our tickets just outside the gate.
When you can't go to Scotland, such diversions are the next best thing.