I lived in Buffalo for a few years in the 1980s, so I should know all about it, right? Home of hot spicy chicken wings and Friday fish fries, the Peace Bridge and lake effect snow. The place where President McKinley was shot in 1901 at the Pan American Exhibition, and where Theodore Roosevelt was sworn in when McKinley died? This past weekend when visiting my friend John, my preconceived notion that I "know" Buffalo was seriously challenged.
Take, for instance, the 2015 Boom Days. They've only been around since 2002, but the festival, and the location of the festival at Silo City, were marvelous and exciting.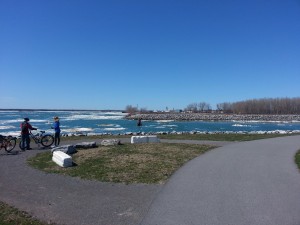 We arrived on a gorgeous mid-afternoon when things were just getting started. But not the raising of the boom. Each winter, the ice boom stretches from Buffalo almost to Canada holding back the ice from Niagara River and the Falls to keep ice chunks from damaging property. Apparently the boom has been raised as early as March 1, and as late as May 7 (last year). But at the time of Boom Days 2015, 840 square miles of ice still linger on Lake Erie. I doubt the boom will be raised any time soon.
The venue of Boom Days was as startling as the concept. It took place this year in Silo City. Don't even get me started on the history of grain elevators, about which a bronze placque stands near the marina.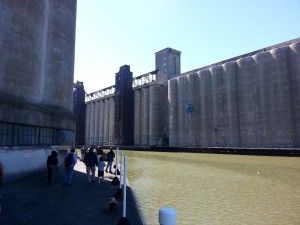 "I think of them sort of like the pyramids of Egypt," John said as we wandered the grounds, me a few steps behind hooting above into the hollow silos, singing a chant to test out the harmonies.
In fact, photography workshops happen there on a regular basis.