If you're ever in Cleveland, don't miss Loganberry Books. I found a treasure there (as I always do): Ohio Builds a Nation, a 298-page compendium of notable persons, places, and pioneer trivia in Ohio.
Friends John and Harriet took me there, and also to the Western Reserve Historical Museum. Somehow in visits past, I'd missed the original oil paintings on the walls. Here are just a couple.
The Cleveland Grays on Public Square, Northwest Quadrant
1839, by Joseph Parker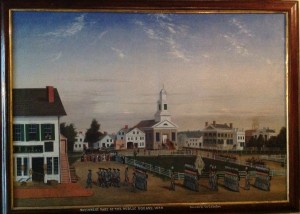 According to the interpretive sign, this is the earliest surviving oil painting of Public Square. It shows the parade of the volunteer militia the Grays, formed in 1837, as they marched in honor of their 2nd anniversary. The church pictured is the original Old North Presbyterian Church.
and
An Evening at the Ark
1835, by Julius Gollmann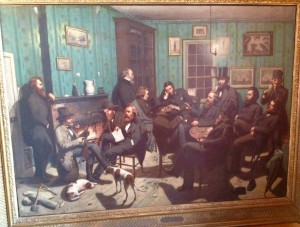 The Arkites were an all-male club "of congenial spirits who met to discuss natural science, or play whist or chess, or talk sports." Apparently their one-story meeting room, in a building where the Federal Building stands today, became so cluttered with specimens of flora and fauna that it resembled Noah's Ark, hence their name. The painter is a German immigrant who was emulating the German genre of the day, the effort to portray everyday subjects as realistically and candidly as possible.
In Berlin, I found another example of this genre tradition from around the same time period.

More evidence of the German influence in Cleveland of the mid-1800s. Not that I was looking for it or anything.