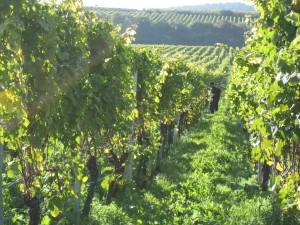 The last time I visited Freinsheim was the fall of 2010 during the annual "Wine Hike" / Weinwanderung. (Ostensibly, I was there to research my novel, but hey, a girl can have fun too, right?)
Soon I'll be headed back there, about the same time of year, but so much in my life has changed. I've studied more German, for one thing. I feel as if I'm so much closer to my relatives, for another. But most of all, I've now made the leap from aspiring writer to published author. The book I went there to research — relying on Freinsheimer hospitality for a whole month! — has become a reality.
And they're setting up a book talk for me, while I'm there, in a renovated old hospital that is now used as a cultural venue. My presentation will be Monday, October 6 at 7:00 p.m. I'll talk about my book (hopefully in German) and read from it, and will have help from my relatives during the Q&A. Heartfelt thanks to the Weber family for setting this up. A link to the announcement of the event (in German) is here.