The first time I attended a genealogy class taught by Sarah Little I heard about Cyndi's list. On Sarah's handout, my teacher noted the site is the most comprehensive reference on the web for genealogy, "the best of them all. A phenomenal encyclopedic site."
Amazingly, Cyndi has now kept Cyndislist.com continuously updated for 18 years. It has a categorized index to over 327,000 online genealogy resources. I've used Cyndislist.com to find immigrant ship passenger lists, links to German genealogy sites, Palatine genealogy sites, and genealogy resources by state. I've found links to listserves on ships and on blacksmithing, to ship photos and more. Sarah's right, the site is phenomenal. Basically, it's a free place to go learn what's out there, like a card catalog used to work as you entered a library.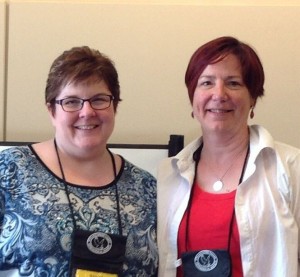 This past weekend, I had the privilege of meeting Cyndi herself at the Washington State Genealogy Conference in Arlington. Cyndi Ingle, the person behind that marvelous List, is as helpful, personable, and knowledgeable as her web site.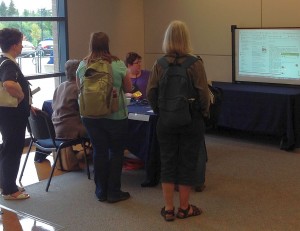 Want to meet Cyndi, too? Her speaking calendar, including upcoming visits to Arkansas, San Diego, and Port Angeles, is here.
And if you're up for a cruise, she'll be part of the 10th Annual Heritage Books Genealogy Conference and Cruise this November 29-December 6.
Say now, doesn't that sound like fun?! Needless to say, I left the genealogy conference with a touch of Cyndi envy. And gratitude — Cyndi posted a link to this author blog, and to my The Last of the Blacksmiths book page in her "Browse New Links" for August 16. How cool is that! Thanks, Cyndi.