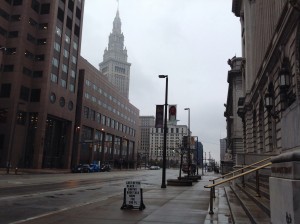 What a welcoming place. My brief week in Cleveland has flown by. I've met descendants of other Cleveland blacksmiths and craftsmen, historical fiction fans, researchers on the quest for German ancestors, history buffs, and dear family friends, including a few descendants of a character in the novel (Henry Hoppensack).
"Did Henry mean to cheat Rapparlie on that wagon, or was he just hard of hearing?" one of them asked. (After my talk at the Fairview Park library, we of the Hoppensack clan were on our way over to tip a quaff at Stamper's Tavern.)
"Do you think Henry could have had hearing difficulties?" I asked.
"Frank didn't hear well."
I nodded sagely, but of course this proves nothing.
Clevelanders have treated me with generous — one might even say Palatine — hospitality. The following Cleveland bookstores are carrying my novel The Last of the Blacksmiths.
Mac's Backs
Loganberry Books
Visible Voice Books
and the museum shop of the Western Reserve Historical Society on East Blvd.
Fireside Bookshop in Chagrin Falls
If you don't live in Cleveland, the book can be ordered from a bookstore near you! And thanks for supporting your local bookstores.